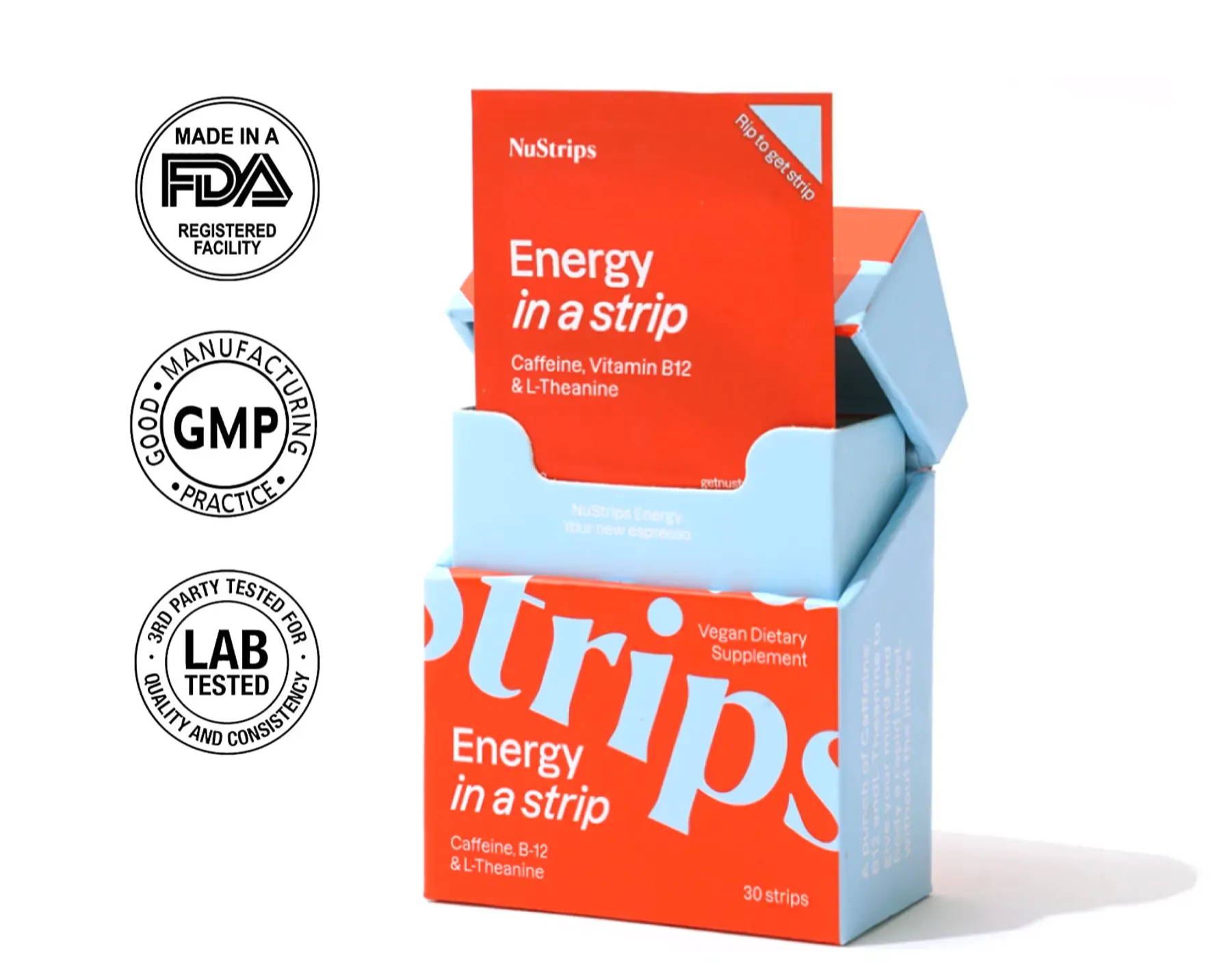 ★ ★ ★ ★ ★  OVER 1,000+ 5-STAR REVIEWS
THE TESLA OF ENERGY BOOSTS
5x faster | 10x portable | 100% jitter-free

★ ★ ★ ★ ★
"Love this product. Not jittery. No heart palpitations. Just natural sustained energy. It even seems to suppress my appetite a bit - added bonus. And I love the packaging."
KRISTINE H (CA) ✓ VERIFIED BUYER
★ ★ ★ ★ ★
"So glad I tried NuStrips! They lived up to their word and the hype around them."
Kellie F (CA) ✓ VERIFIED BUYER
★ ★ ★ ★ ★
"These are so convenient, easy to use, and taste great. Best of all, they give you that extra needed boost of energy to start the day!"
Dale H (TX) ✓ VERIFIED BUYER
★ ★ ★ ★ ★
"It helps start my morning with the energy I need for the day. Thanks for a great product!"
Melanie C (OH) ✓ VERIFIED BUYER
★ ★ ★ ★ ★
"I take one around 2pm daily & get a second-wind of energy for the day."
Millie D (TX) ✓ VERIFIED BUYER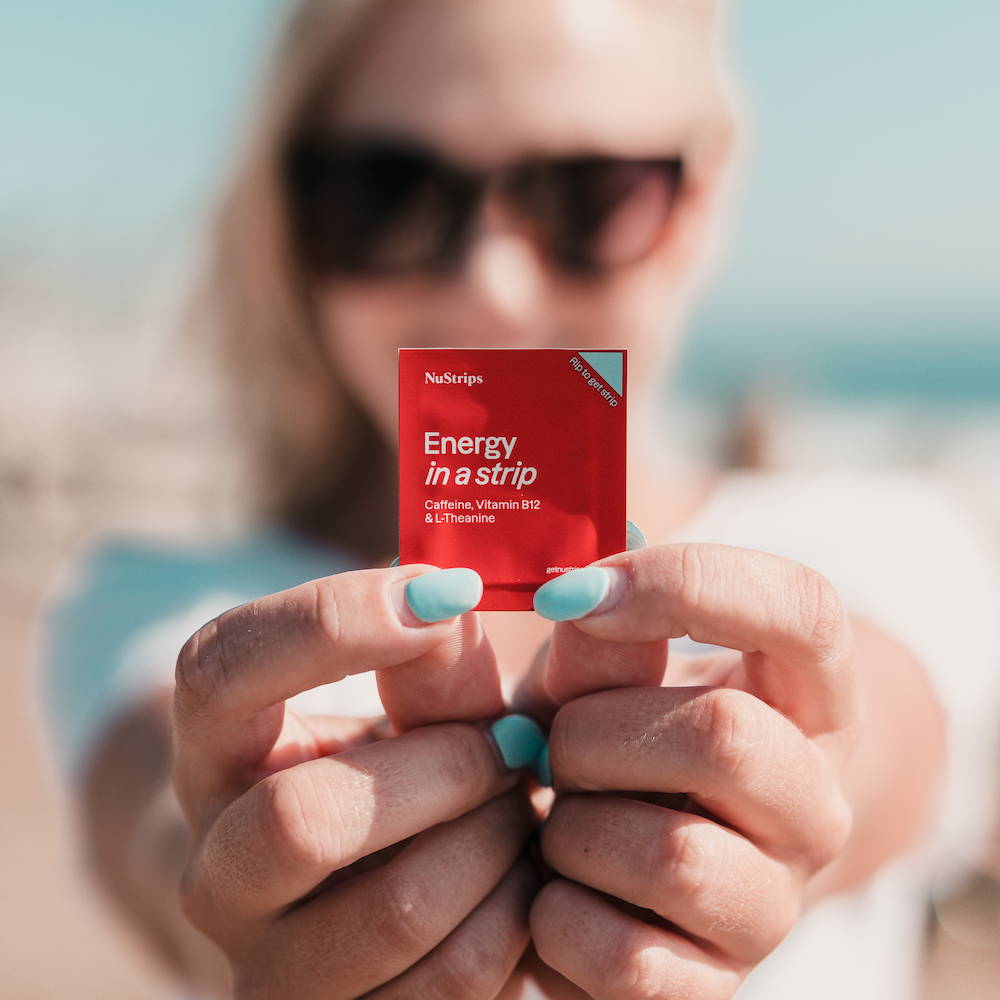 Live your rock and roll life.

Created using our patented In a Strip™ technology and designed to help you feel:
✓ 5X FASTER ENERGY
✓ FOCUSED & PRODUCTIVE
✓ NO JITTERS
Welcome to the revolution in nutrition technology.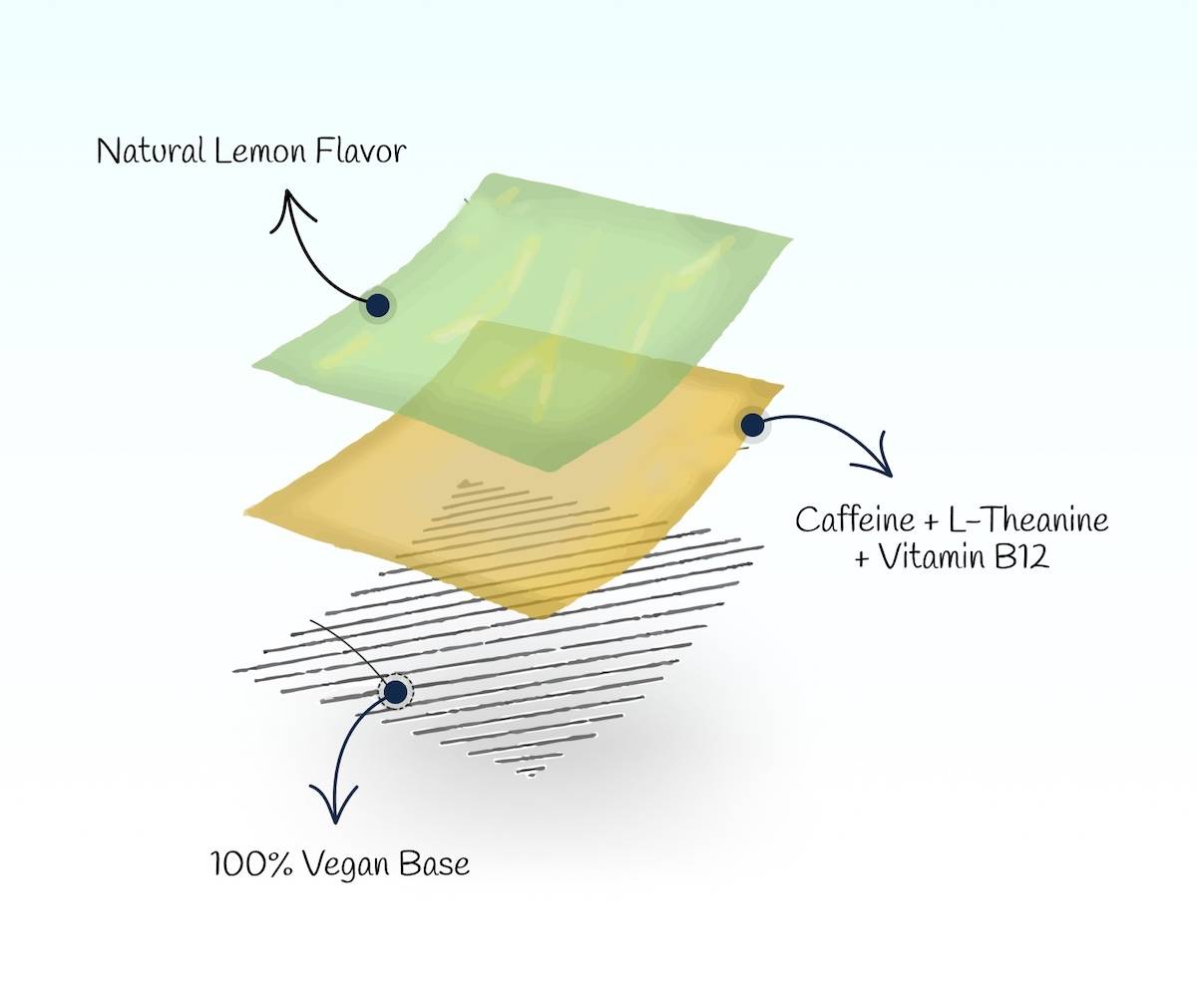 Clean ingredients and a refreshing lemon flavor. No sugar. No artificial colors. No BS.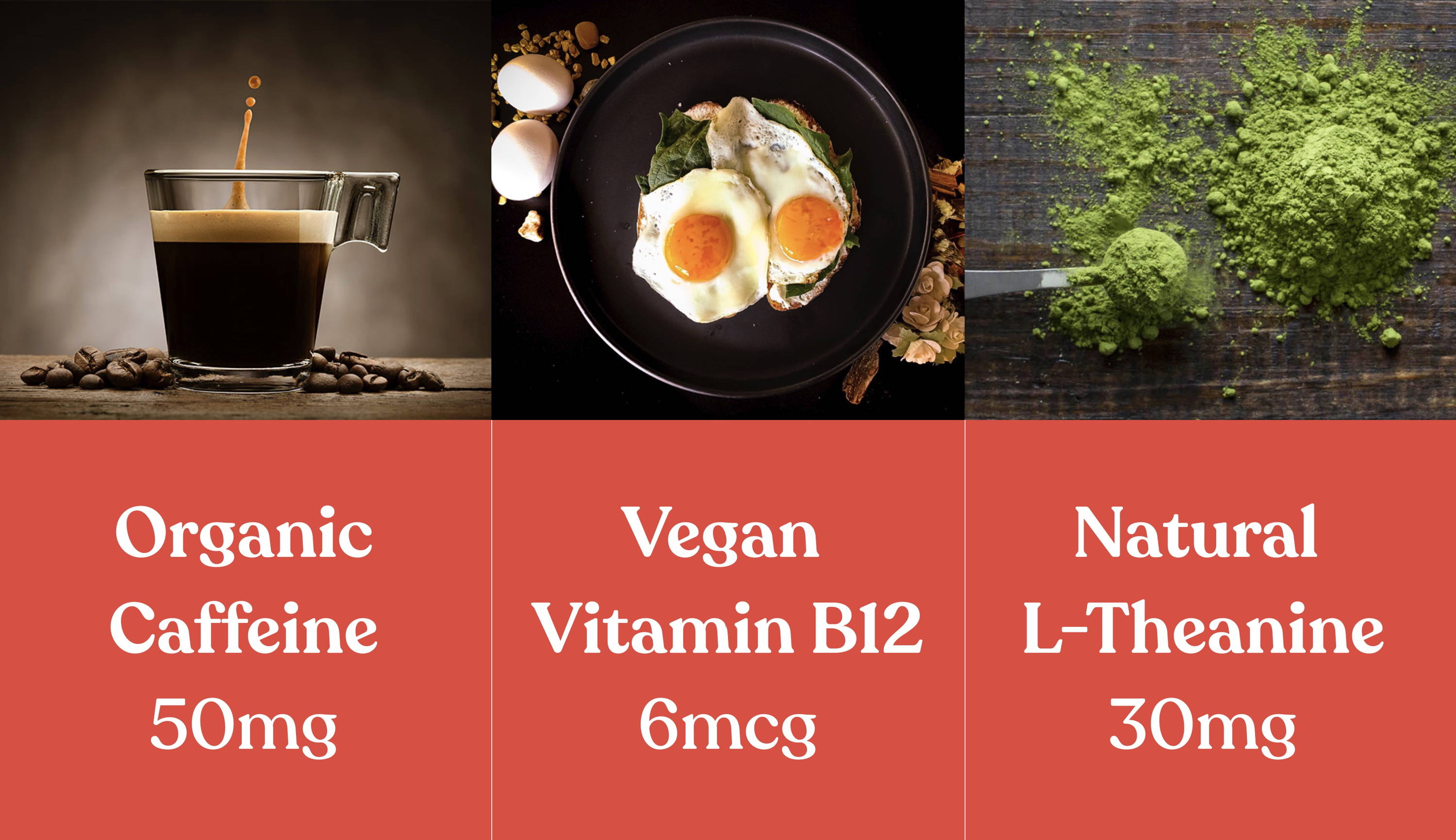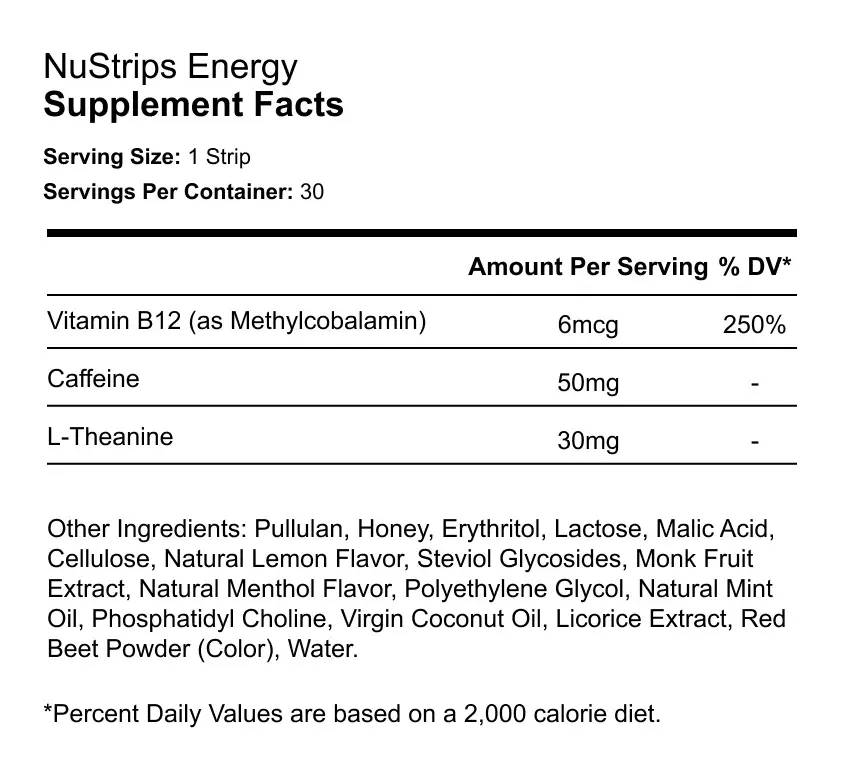 20,000+ happy customers in just 6 months!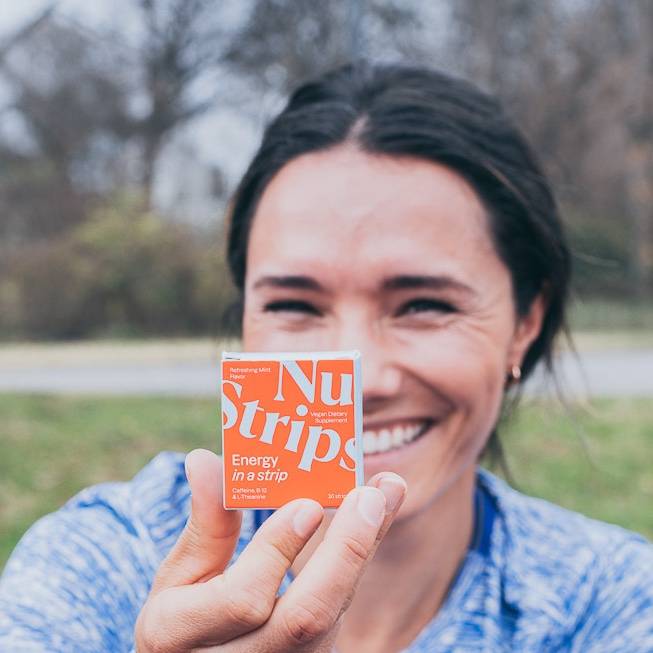 "It had a stronger and faster effect than red bull for me."
- Anna T (Professional Runner, CA)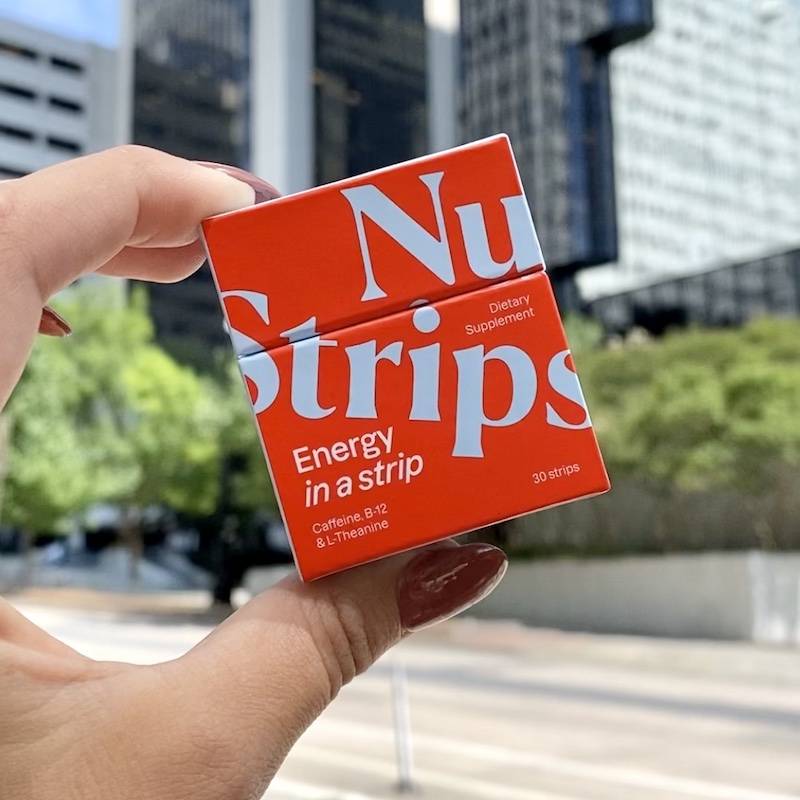 "Just one strip keeps me awake my entire night shift!"
- Anna T (Registered Nurse, OH)
"The best part is you DO NOT get jitters or feel like you "took something for energy"! You just HAVE ENERGY to do whatever you need to do!"
- Jennifer Paris (Nutrition Coach, FL)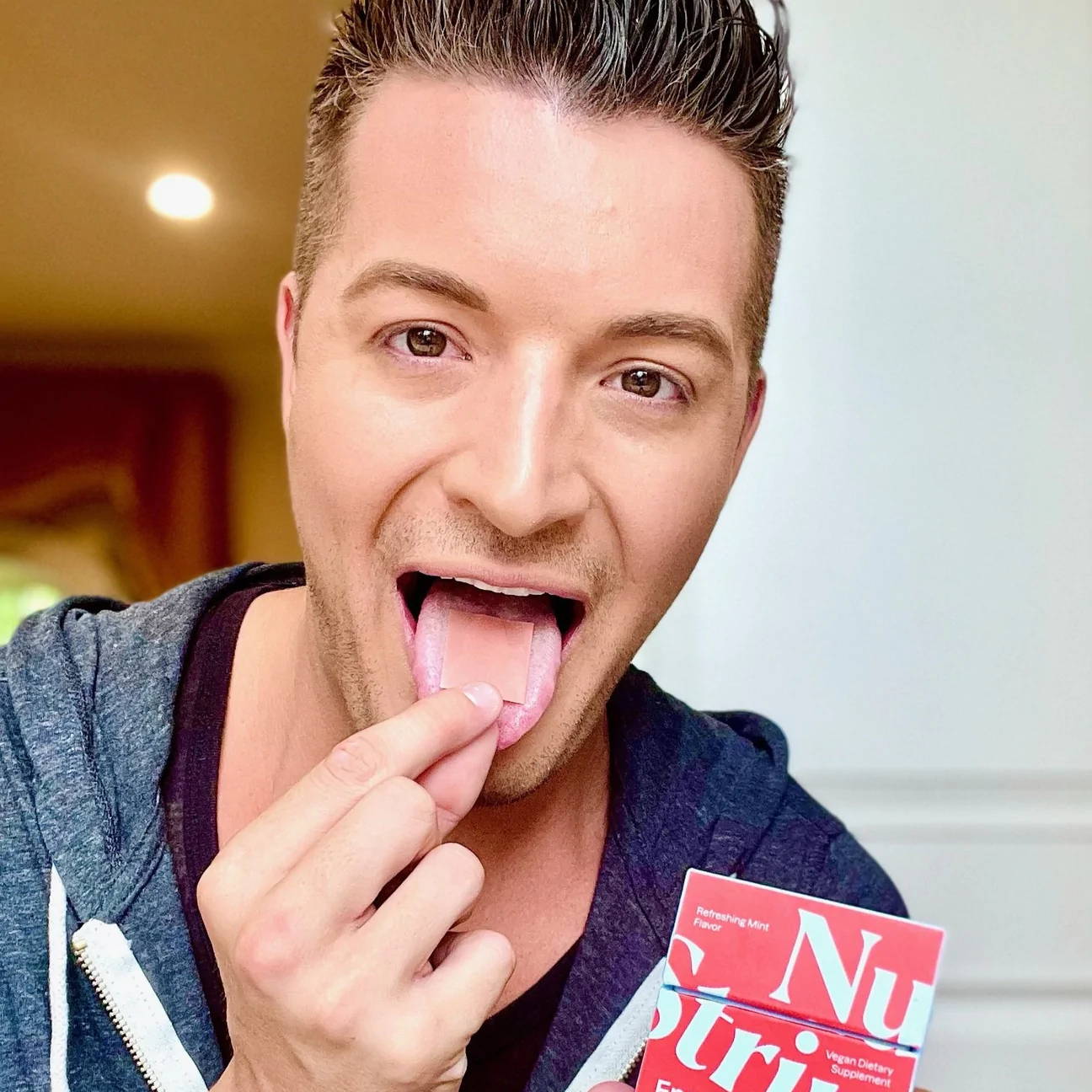 "I stopped drinking coffee and energy drinks. This product is amazing, everyone asks how I have so much energy. My mind is clear and I do not feel jittery at all. I highly recommend this product!"
- Ray M (ER Nurse, NY)
"It gives me that edge to get through the end of the day slump. I don't feel jittery, there is no crash, just a feeling of focus! It is exceptionally easy to take anywhere with you."
- Dr. Denise A (Doctor, MA)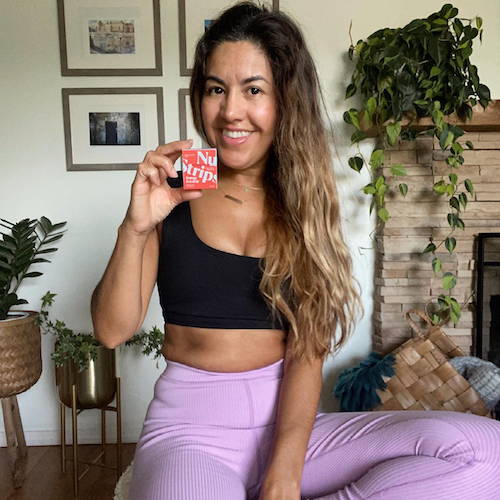 "Take one before my 6am workouts and feel wide awake without the jitters or nausea on an empty stomach!"
- Vera D (Designer, TX)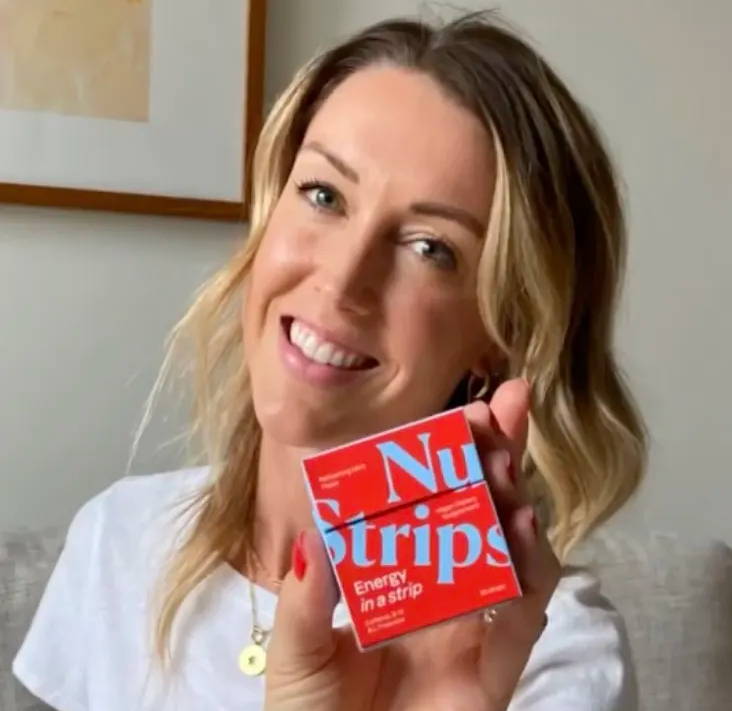 "Such a great easy way to get the right amount of energy I need in the mornings. Highly recommend!"
- Tarin D (NY)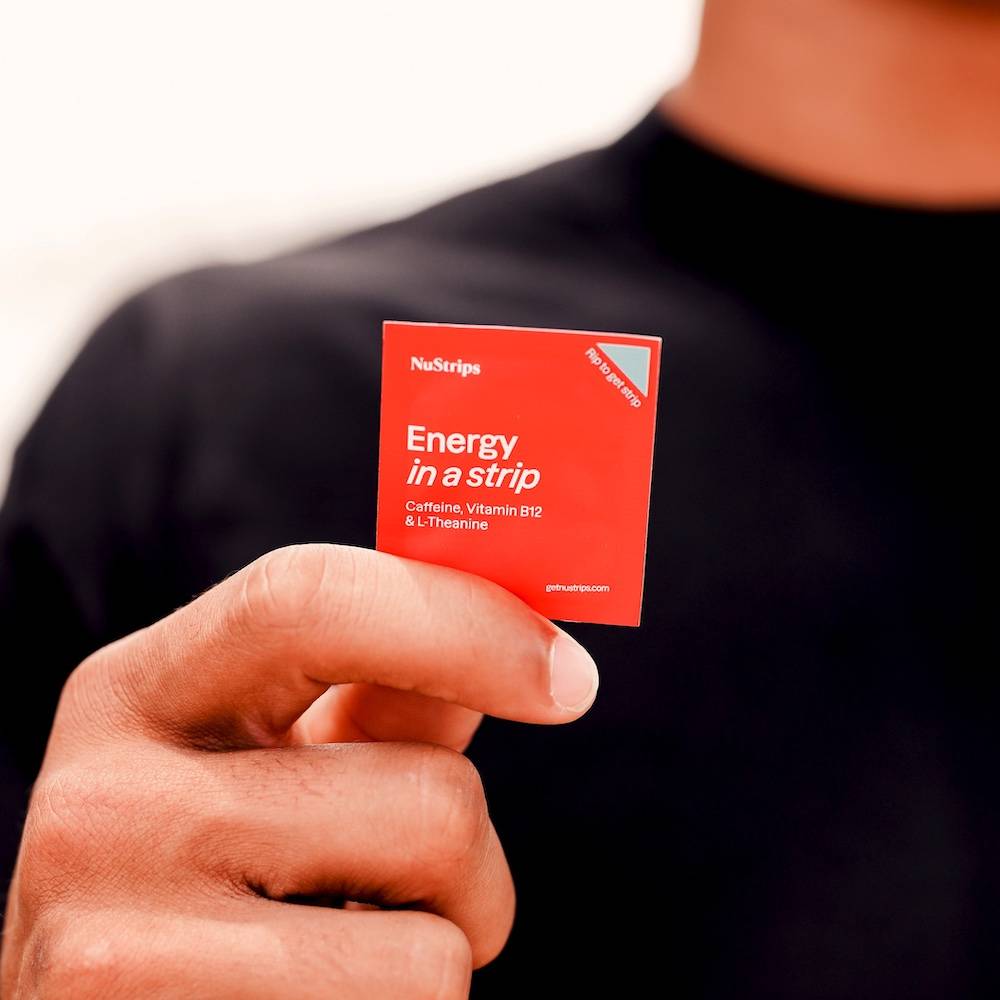 ▶ 6AM: WAKE UP FASTER AND JITTER-FREE
▶ 1PM: FIGHT THE MID DAY CRASH
▶ 9PM: IF YOU'RE WORKING NIGHT SHIFT
Maximum recommended dose is 3 strips per day.
FREE SHIPPING ON ALL US ORDERS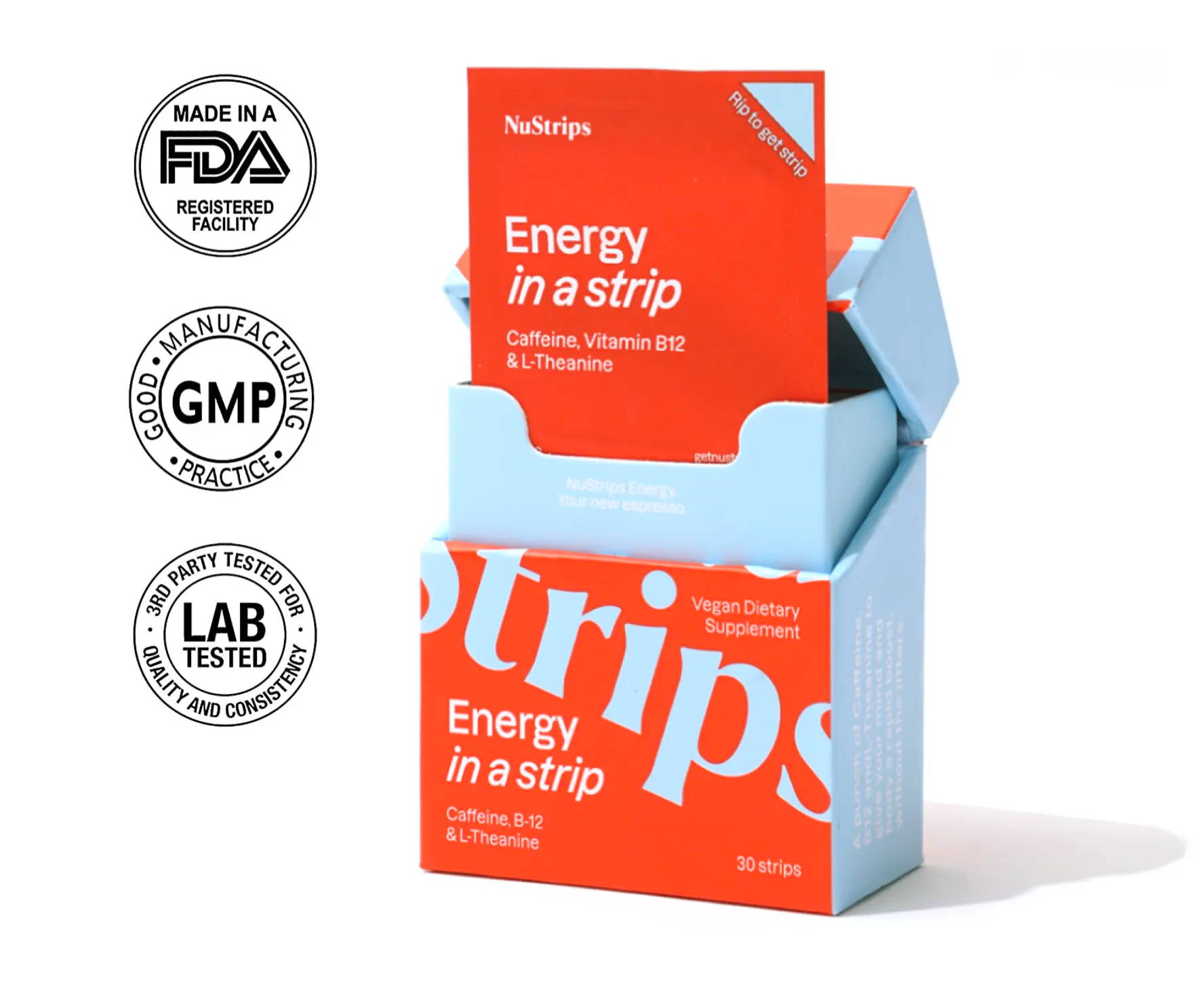 Energy In a Strip™
PACK OF 30 individual strips
$36.50 $29.00   Only 97¢ each
FREE SHIPPING & RETURNS on all orders
subscription orders ship every 4 weeks; cancel anytime.
Frequently Asked Questions
NuStrips are created using our patented In a Strip technology and loved by over 10,000+ users. Buccal absorption (via oral membranes) allows for active ingredients to be absorbed by your body upto 5x faster and with upto 2x greater efficiency.
Click here to see more reviews.
What are the supplement facts?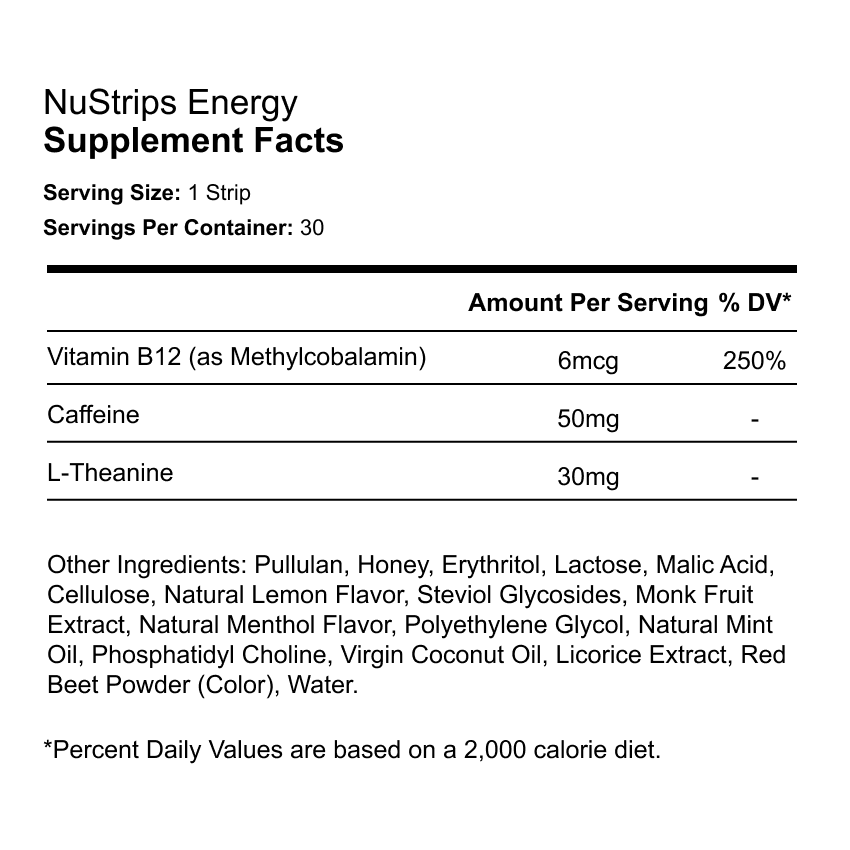 Yes! Energy In a Strip is created using 100% natural ingredients and complies with US FDA, WHO-GMP and Health Canada standards for nutrition supplements.
Furthermore, hundreds of doctors and nurses rely on Energy In a Strip to power through their days and nightshifts. Check out our great reviews here!
How many should I take per day?
☀️ WAKE UP FASTER
We recommend taking one energy strip in the morning as soon as your alarm goes off in the morning.
👊 FIGHT THE MID DAY CRASH
Take a second energy strip after lunch to fight the food coma.
👩‍💻 CRUSH YOUR GOALS
If you're working or studying late, take one strip for your night shift.
***We do not recommend consuming more than 3 energy strips per day.
Are they better than energy drinks?
Check out the comparison table below: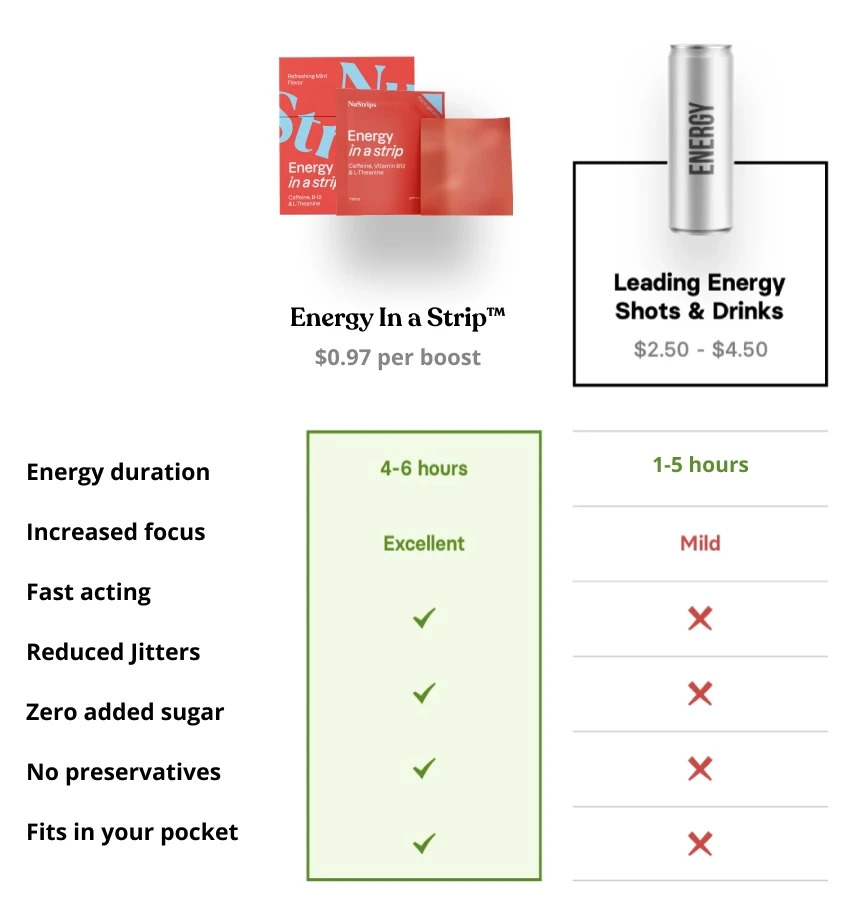 Are they planet-friendly?
Yes, NuStrips packaging is 100% sustainable and recyclable. They're also incredibly portable, helping reduce waste and your carbon footprint.
Our products and ingredients are 100% curelty-free, GMO-free and sustainably sourced.
Energy strips are 100% free from gluten, soy or peanuts.
What is the return policy?
We offer 100% free and hassle-free returns under our 30 day money back guarantee.
Verified customer reviews:

★★★★★
"Just one strip keeps me awake my entire night shift!" - Anna T (Registered Nurse, FL)
★★★★★
"It gives me that edge to get through the end of the day slump. I don't feel jittery, there is no crash, just a feeling of focus! It is exceptionally easy to take anywhere with you." - David A (MA)
★★★★★
"Amazing boost. I use one every day before my 7am workouts!" - Jeff S (OH)
★★★★★
"I stopped drinking coffee and energy drinks. This product is amazing, everyone asks how I have so much energy. My mind is clear and I do not feel jittery at all. I highly recommend this product!" - Lori M (Emergency Nurse, NY)
★★★★★
"The best part is you DO NOT get jitters or feel like you "took something for energy"! You just HAVE ENERGY to do whatever you need to do!" - Carnel L (TX)