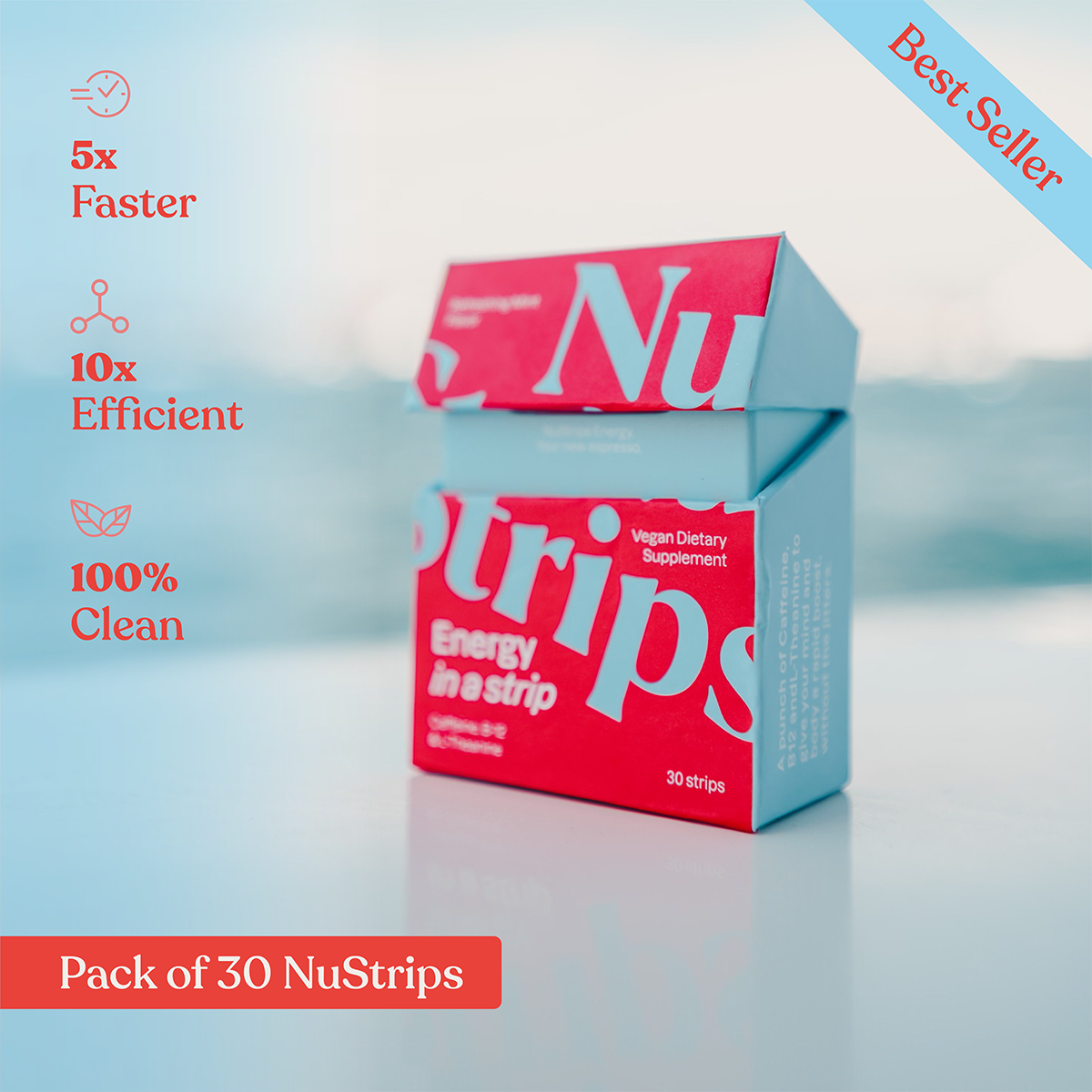 "It had a stronger effect than Redbull for me." - verified review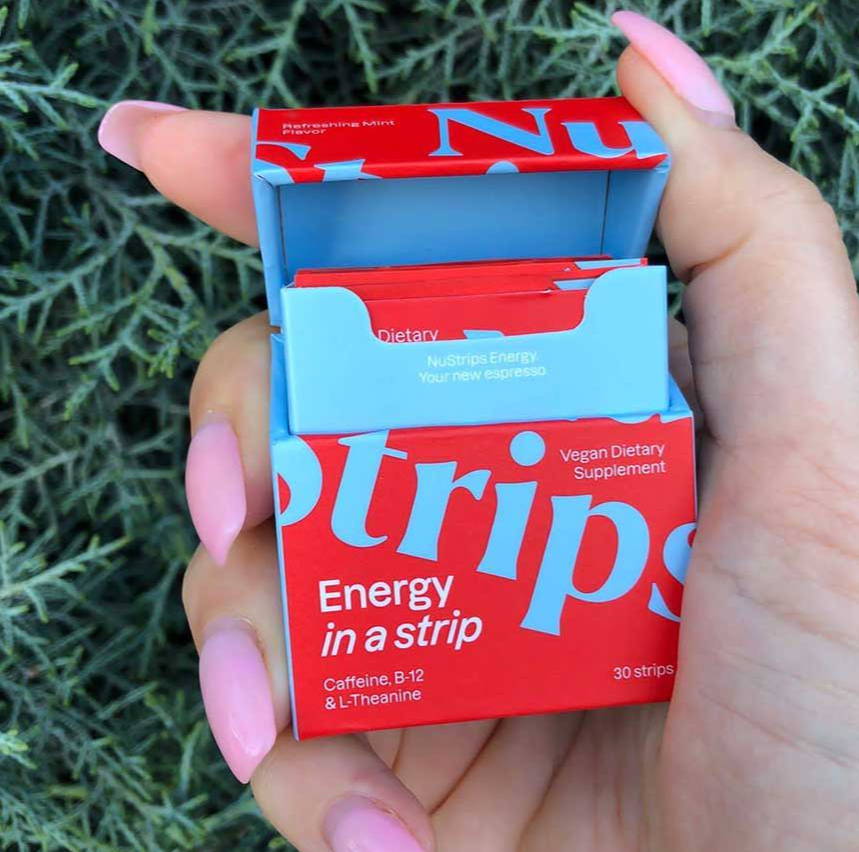 "Love it! 30 espressos in your pocket." - verified review
"Love the clean ingredients and no sugar." - verified review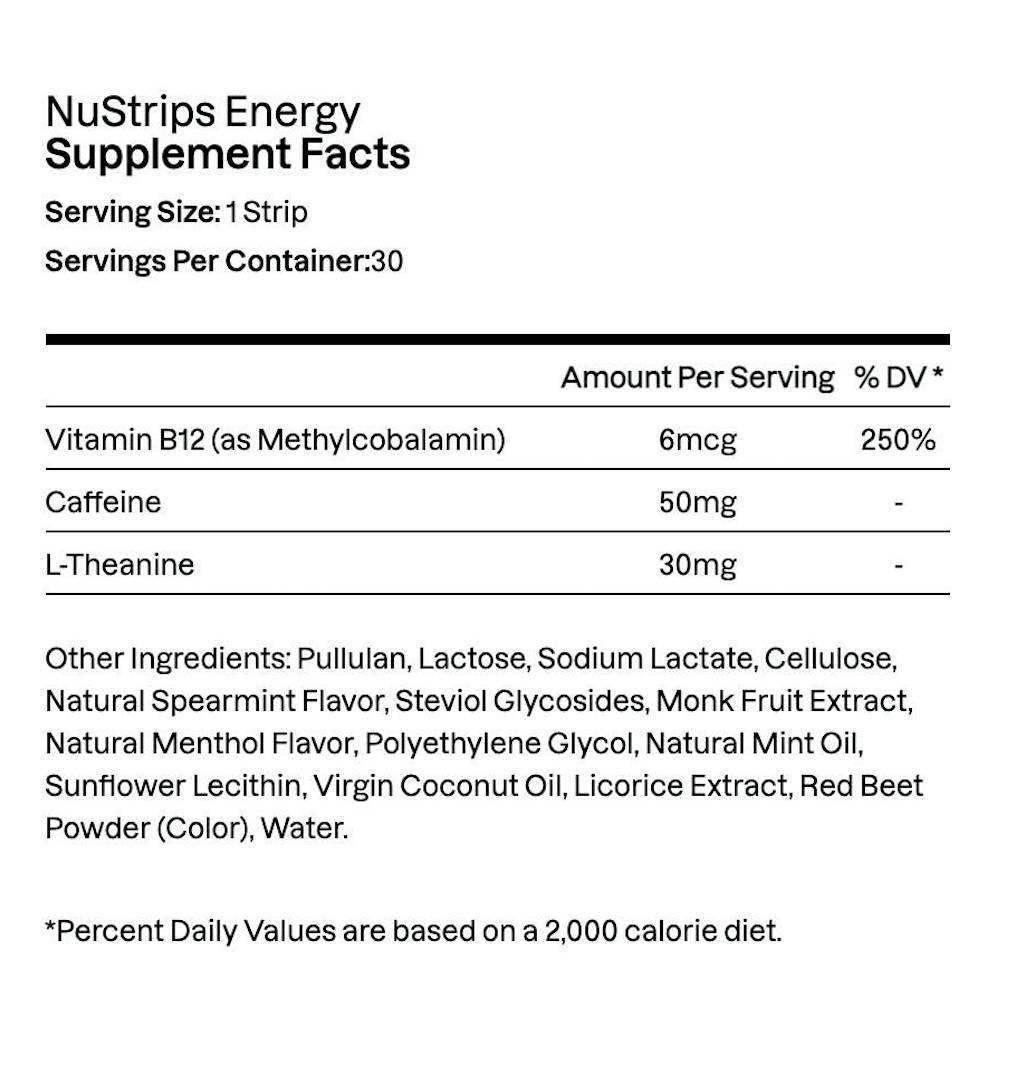 "The mint flavor is quite refreshing and nice." - verified review
Only $36.50 $29 for a pack of 30
For delivery every 30 days
Subscribe & Save
— Fast and Free Shipping —
☕ Caffeine + L-Theanine + Vitamin B12
👅 Dissolves on your tongue in seconds
🌿 No sugar, clean ingredients, vegan
Less than $1 per energy boost.
---
🌎 100% recyclable and sustainable packaging
✓ US FDA compliant ✓ WHO-GMP certified
---
You might have seen us on
Drop those unhealthy energy drinks.
Just drop a NuStrip on your tongue.
5x
Faster
Buccal (tongue) absorption is upto 5x faster than drinking or swallowing.
10x
Efficient
One dose of NuStrips gives you the same boost while taking less than 1/10th the space of comparable energy drinks.
100%
Clean
NuStrips contain only 100% natural flavors, vegan ingredients and ZERO added sugar.
Powered by our patented In a Strip™ technology.
Learn more about In a Strip™ »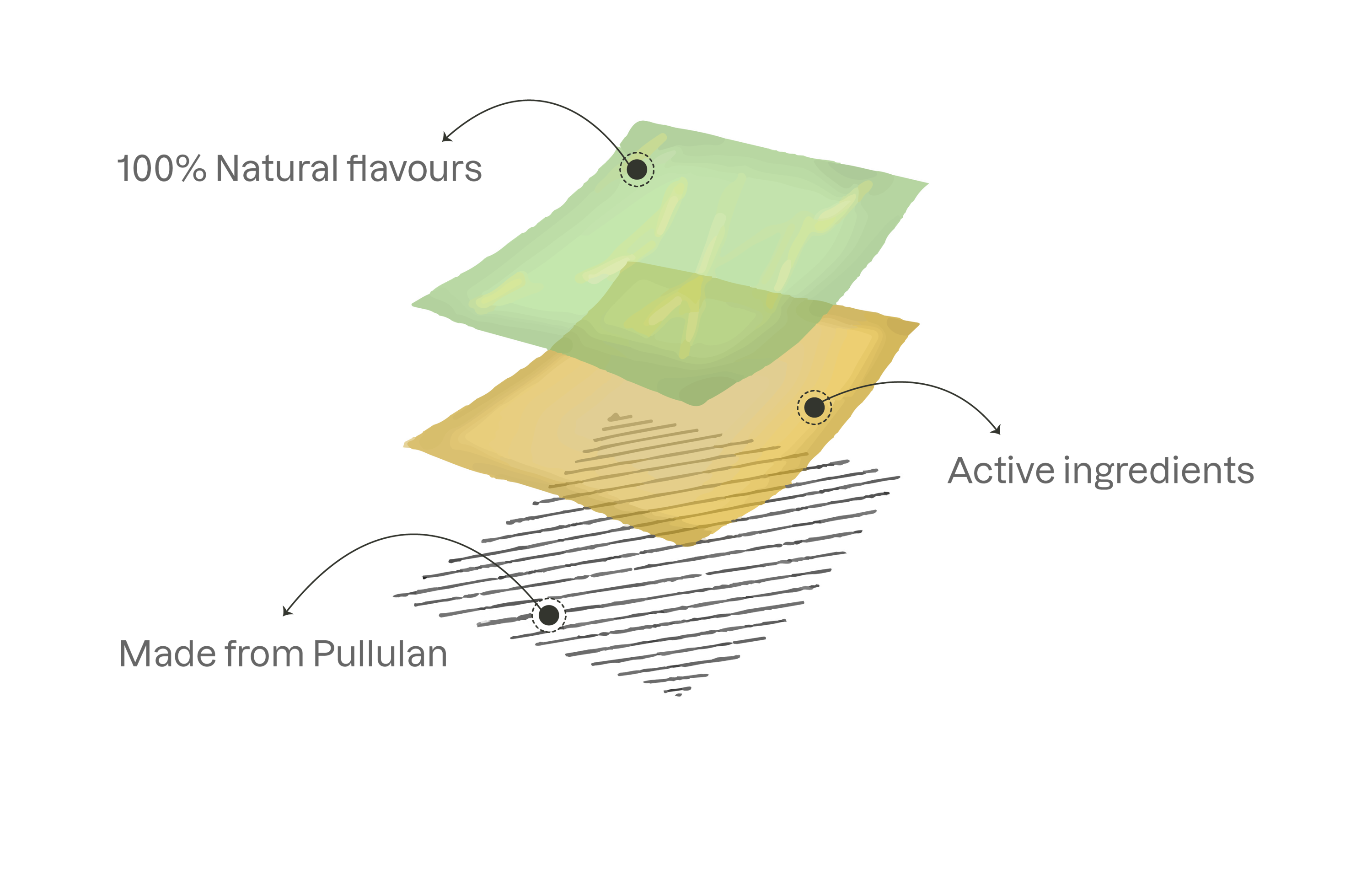 Our patented In a Strip™ technology allows us to create lifestyle supplements that effectively pack multiple nutrients onto each individually sealed strip.
NuStrips are engineered to dissolve quickly on your tongue and drive faster absorption, enhanced bioavailability, and peak performance.

The strips themselves are made from Pullulan - a 100% safe, vegan and natural substance that dissolves easily. The US FDA approved Pullulan as safe in 2002.
Drop the excuses. Get it done.
Using our patented In a Strip™ tech, we layer a precise dose of caffeine with L-Theanine & Vitamin B12 which helps support:
Ingredients in Energy in a Strip are known to wake up both - your mind & your body.†
Ingredients in Energy in a Strip can give you lasting energy over a prolonged period.†
Ingredients in Energy in a Strip increase brain chemicals that encourage a sense of calm while you focus.†
Energy in a Strip contains none of the ingredients in energy drinks known to cause jitters & shakes.†
Ingredients in Energy in a Strip have proven to improve speed & accuracy.†
Energy in a Strip contains no added sugar and only 100% natural flavors.
Drop the sugar and artificial ingredients.
Drop the jitters.
Upgrade to a clean and calm source of energy.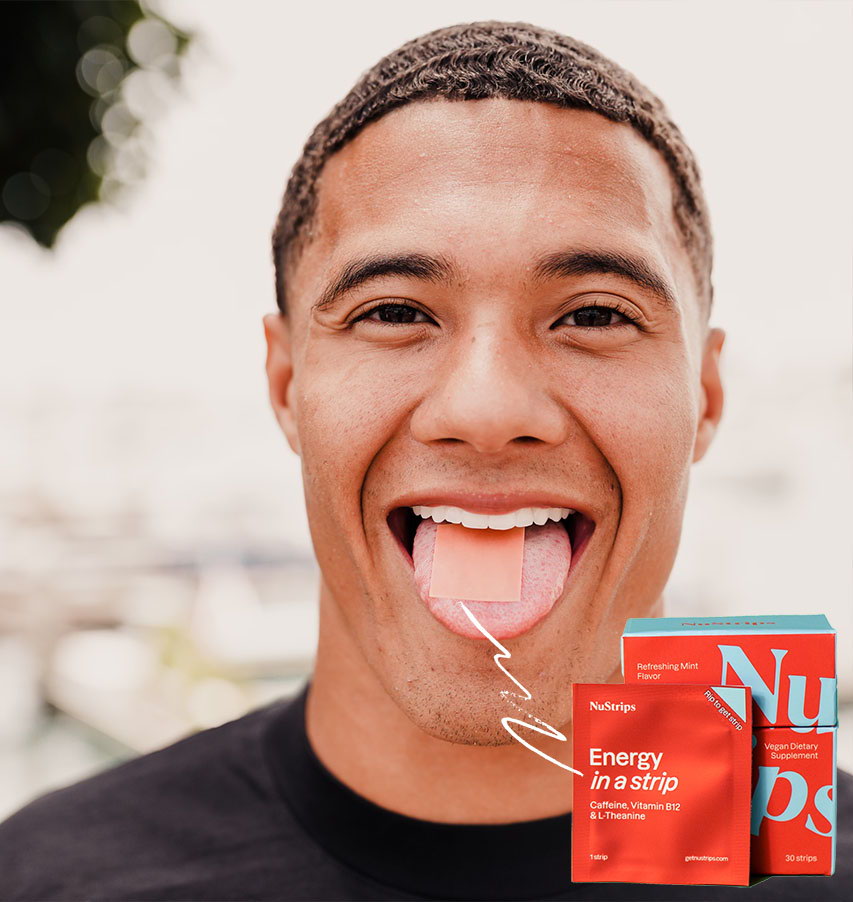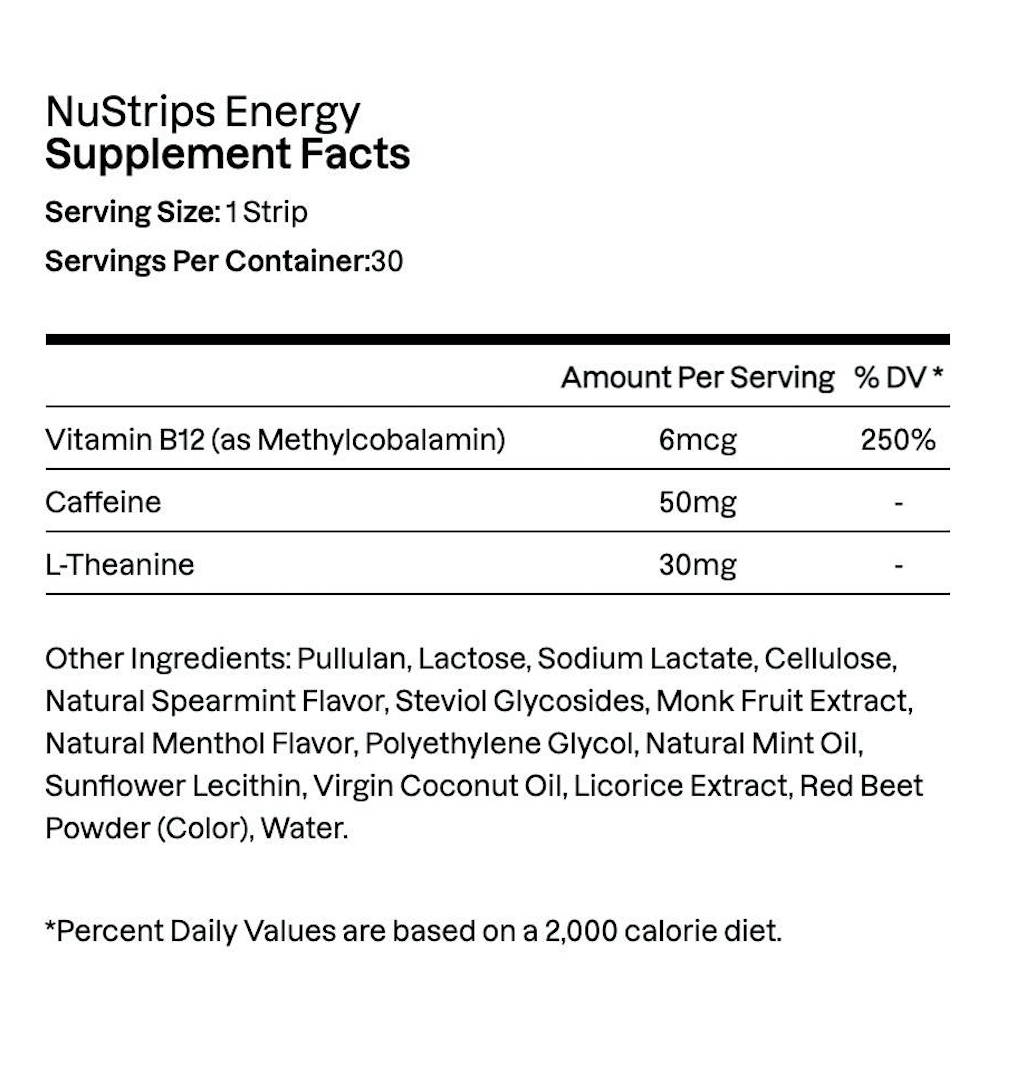 More about the ingredients »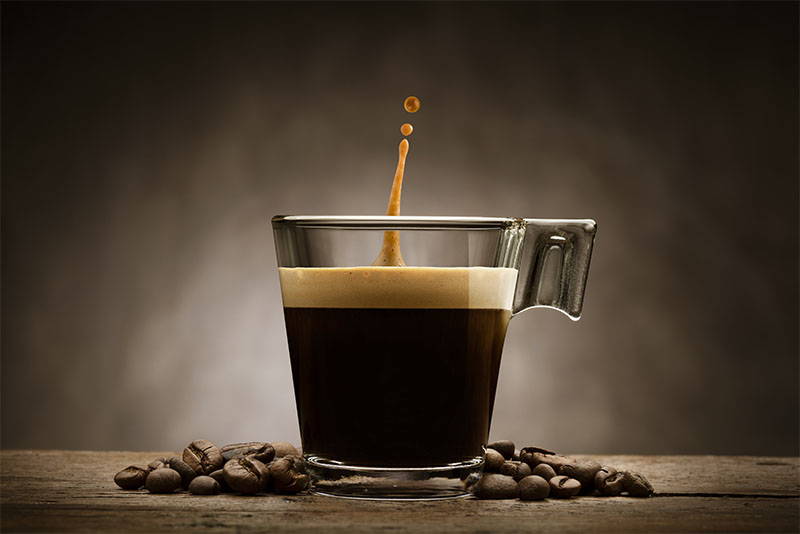 Natural Caffeine
50mg
Greatness is powered by caffeine.
Studies have shown that caffeine can give you a physical energy boost as well as increase mental focus and alertness. †
Caffeine powered by our In a Strip™ technology takes things to a whole new level.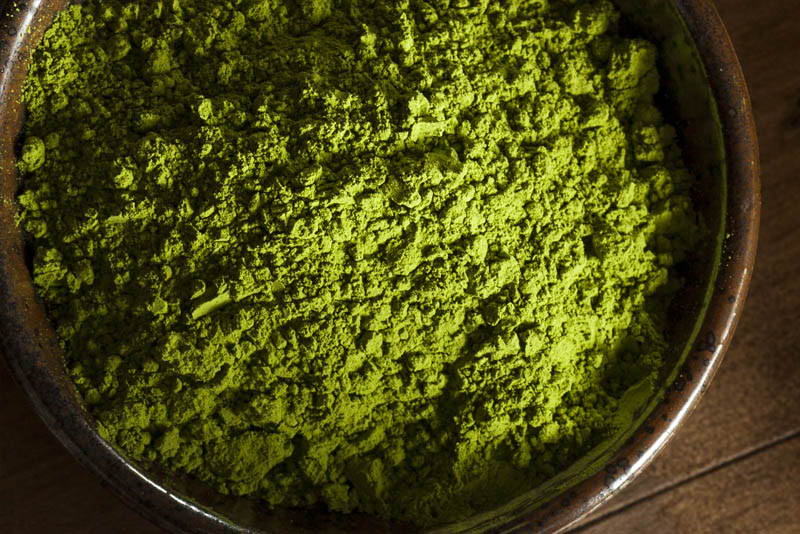 Natural L-Theanine
30mg
Focus with zen.
L-Theanine extracted from green and black tea has been shown to reduce mental fatigue while amplifying alpha brain waves.†
Enjoy that feeling of calm alertness without the jitters.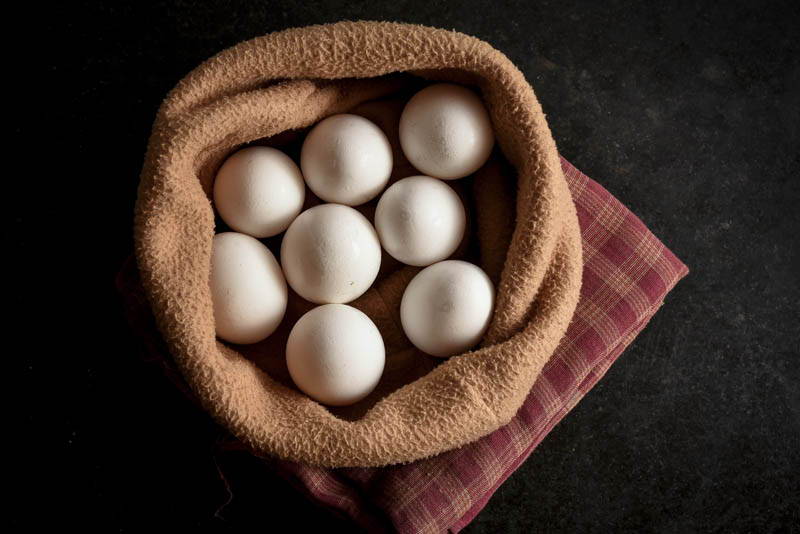 Vegan Vitamin B12
6mcg
Supercharge your brain.
Vitamin B12, generally found in meat and eggs, is known to improve your mood by promoting serotonin production and to enhance your memory.†
Our Vegan Vitamin B12 is derived from nutritional yeast.
Our philosophy is to use only science-backed ingredients in our products.
No hocus pocus. No BS.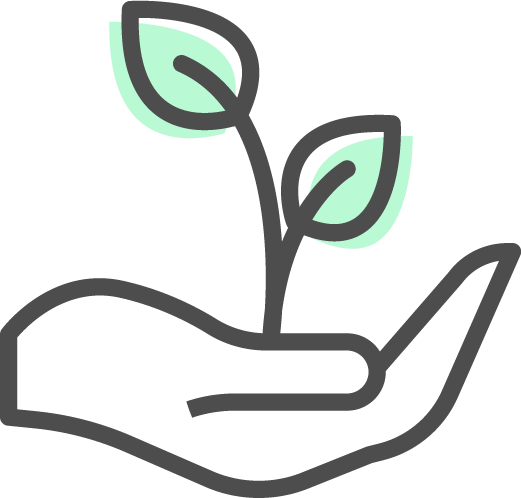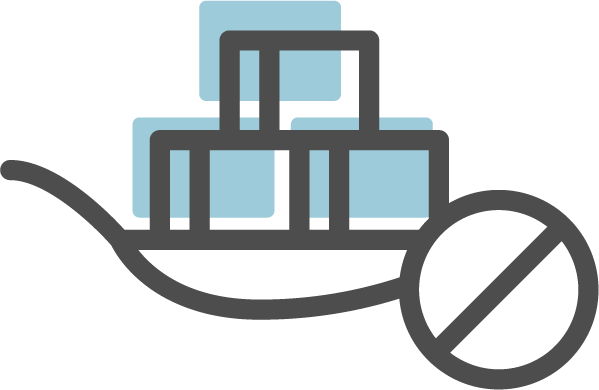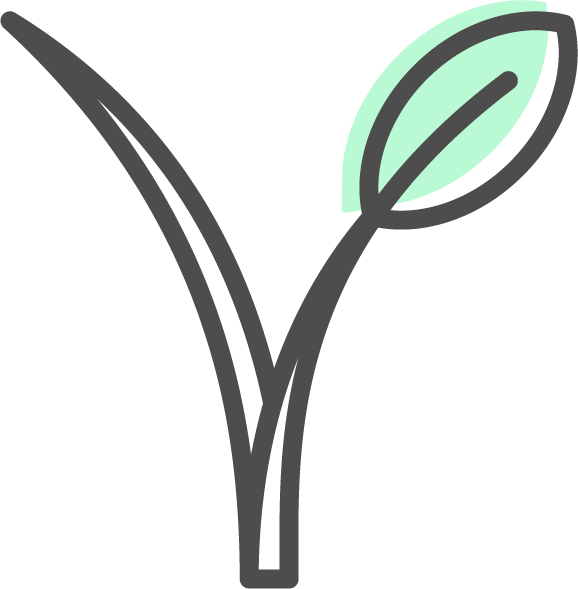 NuStrips products undergo three rounds of testing to ensure product integrity and quality, including one round by an independent third-party.
Drop your NuStrips in your pocket or your bag.
"I wasn't sure about the strip idea but holy sh*t these are incredible."
★ ★ ★ ★ ★
David H (NV)
Verified Review
"Started to feel it in just 10-15 minutes. Nice kick of energy, no sugar or junk."
★ ★ ★ ★ ★
Vera D (TX)
Verified Review
"So portable and easy to use. I carry my NuStrips box in my bag."
★ ★ ★ ★ ★
Kelly A (CA)
Verified Review
"It had a stronger, more immediate effect than Redbull for me."
★ ★ ★ ★ ★
Aayush P (CA)
Verified Review
30 DAY 100% MONEY BACK GUARANTEE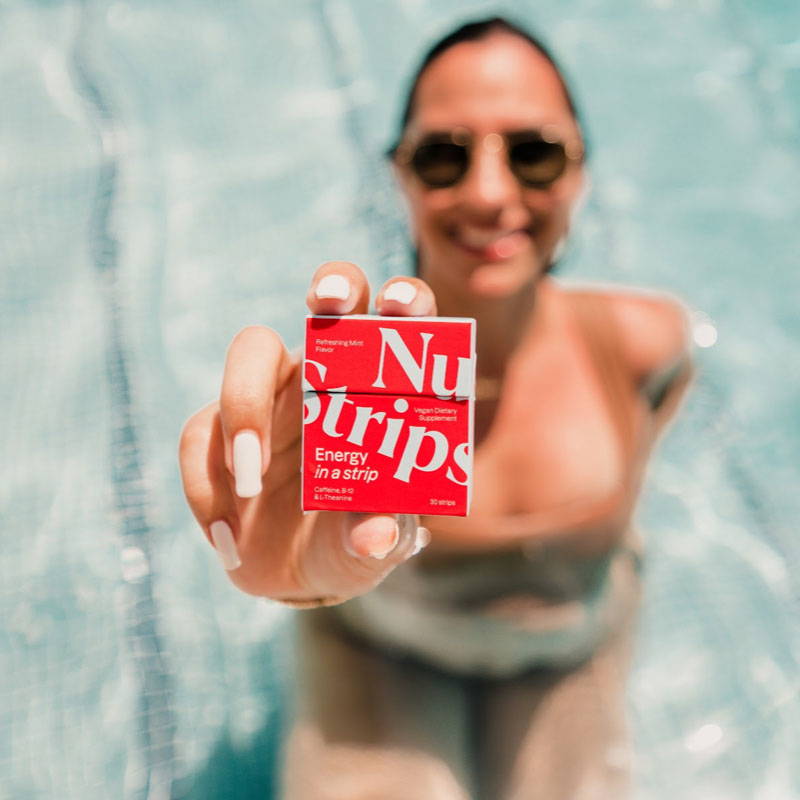 Say goodbye to unhealthy energy drinks.
Say hello to NuStrips.
NuStrips are designed for the active modern lifestyle.
Whether you're battling a mid-afternoon slump or trying to power through an assignment at night, NuStrips has your back.
Each strip is packed with a precise dose of Caffeine, L-Theanine and Vitamin B12 to give you a stable boost of energy, without the jitters.
Our powerful, portable packs move with you and are quick to absorb and highly effective.
Your Nu source of energy - lightning fast, clean. effective.
All at less than $1 per shot, versus $3 energy drinks!
Questions?
We're here to help!
Super sustainable. Super easy. Super you.

14 billion pounds of our trash is dumped into the ocean each year.
Plastic takes up to 1,000 years to decompose in a landfill — that includes plastic vitamin bottles.
At NuStrips, we're committed to changing this reality by using only 100% sustainable and 100% recyclable materials.
Our products are also so tiny and portable, that they only emit 1/5th the CO2, versus comparable products, in getting from Point A to you!
Drop your email below to sign up for exclusive deals, product announcements and updates.